Out with the Old, In with the New
Perhaps no other year, save 2007 with the enactment of the expanded Renewable Fuel Standard, could surpass 2011 in excitement and innovation in America's ethanol industry.
Despite the best efforts of the Renewable Fuels Association and the industry to enact meaningful tax reforms, the blenders credit for ethanol, known to all as VEETC, will expire at year's end. While a devastating development just a few years ago, the expiration of the tax incentive will be far less an event in 2012 as industry maturation, market share expansion, and preparation for this expiration have all taken place.
To this point, the industry is now supplying 10 percent of the nation's motor fuel. We are soon moving to 15 percent and beyond. We are also seeing new markets open up overseas as America has become the world's largest producer, consumer and exporter of fuel ethanol. And, new technologies at existing ethanol biorefineries are being deployed simultaneously with new feedstocks and ethanol production processes that will increase our ability to produce ethanol and expand the economic, environmental, and energy security benefits of domestic renewable fuel production.
As important as these innovations are and as serious as the opportunities and challenges in the year to come will be, it's always good to take a time and reflect on the year that was.
As is tradition, below is the 2012 In and Out list. Please remember, this is done with levity and my tongue firmly implanted in my cheek.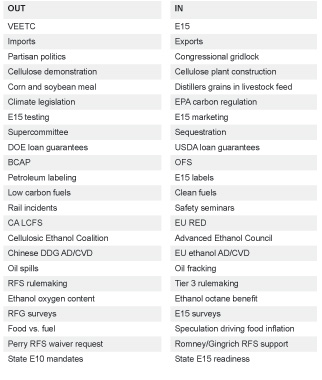 Author: Bob Dinneen
President and CEO of the
Renewable Fuels Association
(202) 289-3835