The Year That Was and Will Be
What a year 2012 has been. We've completed the hard work necessary to introduce E15 as a new fuel and now the rollout has begun. E15 is now for sale in Iowa, Kansas and Nebraska. We've also endured a historic drought that caused economic pain and emotional discomfort for farmers in the Midwest, livestock and poultry producers nationwide, and a 15 percent reduction in ethanol production resulting in a handful of plants shuttering until financial conditions improve. As if that weren't enough, the fierce battle to protect the renewable fuel standard (RFS) is already underway. Fortunately, the facts proved once and for all that the RFS is working and flexible, thus no waivers were granted by the U.S. EPA this year.
2013 may have a rocky start for the industry, but there is also good news on the horizon, especially as we watch cellulosic companies move from the promising talk of the future to meaningful production of ethanol at market scale.
As important as these innovations are and as serious as the challenges facing us are, it is always good to take time and reflect on the year that was and will be, with a certain amount of levity, of course.

As is tradition, I give you 2013's In and Out list: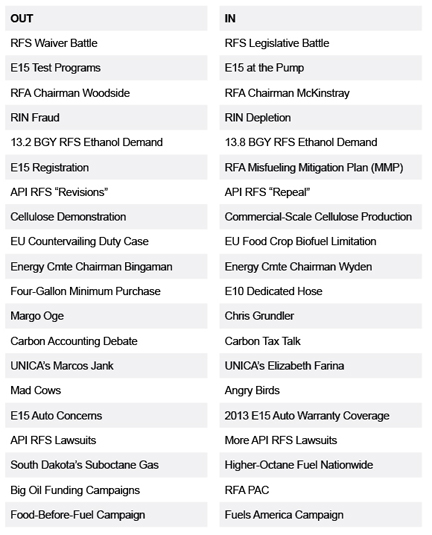 Author: Bob Dinneen
President and CEO,
Renewable Fuels Association
202-289-3835