'Bow tie looking thing' dries distillers grains at Cloverdale
If I'm starting to run dry on inspiration or story ideas the International Fuel Ethanol Workshop & Expo is a perfect place to recharge in a big way. Just as long as I have time for a good long nap when I get back home.
Last week, June 27-30, was taken up almost entirely by FEW. I flew out to Indy early Monday morning and arrived back in Grand Forks, N.D., fairly late Thursday night. I learned a lot by talking to technology suppliers and service providers in the expo hall and listening to speeches and panel presentations. I have to say, however, that I learned the most on Thursday, during the tour of Poet LLC's newest and 27th ethanol plant.
The first thing I noticed when I stepped off the tour bus was what looked like ductwork in loops at the top of the plant. At the first opportunity I asked the tour guide, "What's that?" I learned the Cloverdale plant, which produces essentially 100 percent DDGS, has a ring dryer system.
My question earned me a friend. Erin McClure, who works at the Greenfield Ethanol plant in Johnstown, Ontario, came over and we had an animated conversation about the ring dryer system, which was also the first thing she noticed getting off the bus. Like me, she'd never seen anything like it before. I thought her way of describing it, "a bow tie looking thing," was particularly descriptive.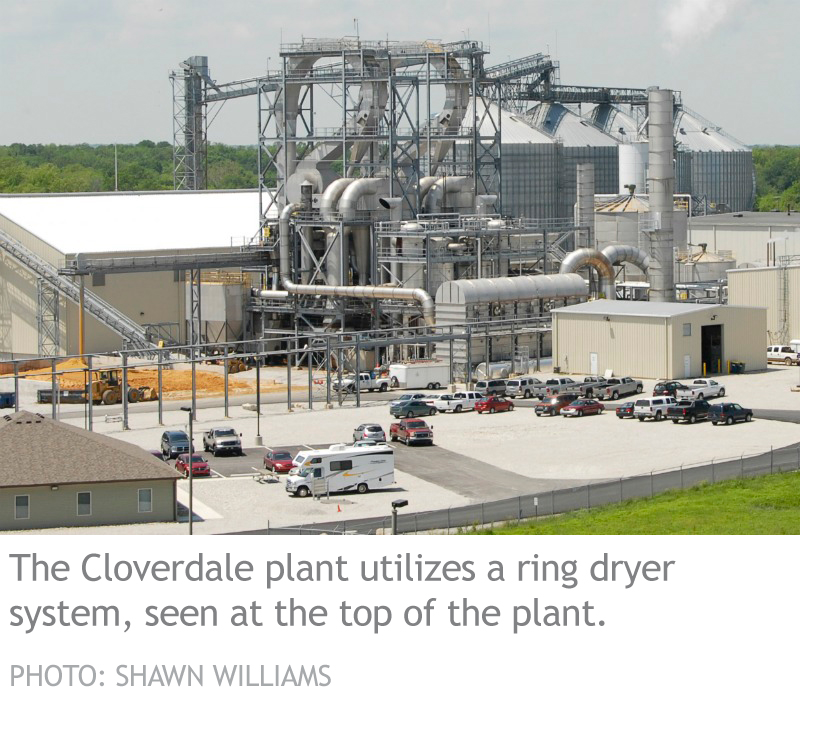 After I got back from FEW I emailed Poet to get a little more information. According to Nathan Schock, public relations director for Poet, a ring dryer system is "a natural gas fired forced air chamber that feeds hot air through a ring system in which the DDG particles circulate until they reach a certain moisture level and then are transferred to storage."
After ogling the ring dryer, the tour group meandered around the outside of the edge of the plant, stopping at various points of interest. Who knew I could learn so much about ethanol production by looking at and listening to someone talking about a tank farm? Poet's BPX, a no-cook fermentation process, created a lot of buzz and required a couple of repeats from our tour guide. When Poet says no cook, it really means no cook, he assured us.
The only area where we actually went inside briefly was "fermentation alley." Part of that was about safety and protecting Poet's proprietary technology but it's also because the Cloverdale plant was originally built with few buildings and most systems outside. There really is a lot to see from the outside. Although the open-air style is different from Poet's other 26 ethanol plants, our tour guide said the company did very little in the way of enclosing the plant. Fermentation alley was one of the few exceptions to that—the area is now inside.
Do any of you have a favorite FEW moment you'd like to share? Post a comment here or email me at hjessen@bbiinternational.com.